As the year began to draw to a close, we decided to use the festive season to create an alternative advent calendar – a celebration of women by using December to highlight some just a few of the women we admire and some of the (many!) great things that they have done.
Here's our list:
1 – Malala Yousafzai
Activist and humanitarian Malala Yousafzai is a young woman from Pakistan who risked her life to speak out against girls being taken out of the education system in the country and around the world.
At 19 years old, she's already achieved so much. She's the youngest ever Nobel Prize Laureate and one of her biggest achievements was opening a school in Lebanon for Syrian refugees. She continues her work whilst living in Birmingham.
2 – Sophie Walker
Sophie Walker is leader of The Women's Equality Party – she was the party's candidate in the London Mayoral Elections 2016 and has been actively bringing forward discussions on equal pay and fairer representation in parliament.
3 – Jess de Wahls
Jess De Wahls is an extremely talented artist and the curator of #Stopjectify, a brilliant exhibition that tackles objectification.
She also creates beautiful embroidered work of feminist icons, among other things, and recently travelled around America with the Feminist Fiber Art exhibition.
4 – Emma Watson
She may be known for her role in Harry Potter but Emma has launched her own international equality campaign and been named by Malala Yousafzai as the voice that led her to identify as a feminist.
Emma highlights negative connotations of feminism and uses her celebrity status to challenge them and open up the conversation on gender equality.
Find out more about Emma here: http://www.unwomen.org/…/p…/goodwill-ambassadors/emma-watson
5-  Alicia Keys
Alicia Keys hit the headlines this year with her #NoMakeUp movement.
"Speaking to Elle UK magazine for its make-up free edition, the 35-year-old singer said the concept was "about owning your own power, embracing your womanhood".
"[I am a feminist because it's about] 'the advocacy of women's rights on the ground of political, social and economic equality'."
6 – Jessica Valenti
Jessica Valenti has written 4 books on feminism, politics and culture. Jessica also writes a super informative and interesting column for the Guardian, often discussing difficult, feminist issues.
7 – Sarah Millican
Sarah is a successful comedian who regularly appears on TV and radio, disapproving ever more the antiquated myth that women aren't funny.
Sarah's also founded one of our favourite online magazines, Standard Issue, the 'alternative' women's mag.
"Standard Issue is a feminist magazine, but feminist in attitude. We cover all subjects, not just feminism. I didn't think there was a magazine that appealed to women who were interested in loads of things. I wanted something that made me laugh, made me feel inspired and made me think."
8 – Speaking of IMELDA
Speaking of Imelda is a direct action feminist performance group whose name stands for Speaking of Ireland Making England the Legal Destination for Abortion. They are a wonderful, bold and creative group who campaign for access to safe, legal and free abortion services globally
9 – Hollie McNish
Hollie McNish is a poet whose work focuses on subjects like breastfeeding, immigration and body image.
She writes about the parts of motherhood that aren't always discussed, like morning sickness and breastfeeding in public, which is a wonderful and positive step in promoting openly discussing motherhood.
10 – Jo Cox
Jo Cox MP campaigned tirelessly for refugees, worked with Oxfam among other charities and was the national chair of the Labour Women's Network.
She may no longer be with us but her legacy to unite communities lives on.#moreincommon
11 – Laura Bates
Laura Bates is the founder of the Everyday Sexism Project, a collection of over 100,000 (and counting) experiences of gender inequality.
In 2015 she received a British Empire Medal for her services to gender equality and is the author of best selling book Girl Up and a writer for The Guardian.
12 – Sisters Uncut
Sisters Uncut are a feminist group taking direct action for domestic violence services.
As a charity who work directly with survivors of domestic violence we believe their work is so important to put up a fight against cuts to much needed services.
13 – Bridget Minamore
Bridget is a poet and freelance journalist who writes about race, class, feminism, and pop culture.
She is part of the creative team behind Brainchild Festival and works with charity My Body Back, a project to empower women who have experienced sexual violence.
14 – Sara Khan
Sara is founder and director of Inspire, a non-governmental advocacy organisation (NGO) working to counter extremism and gender inequality.
Amongst her many roles and achievements, she is also contributor to newspapers including The Guardian, The Independent and The Huffington Post. Her accolades include being listed in the Equality and Human Rights Commission Muslim Women's Power List in March 2009 and being recognised as one of Britain's 500 most influential people, in the prestigious Debrett's War and Peace category as someone who is working towards peace and stability in the United Kingdom in 2015 and 2016.
15 – Nimco Ali
Nimco Ali is an anti-FGM activist, whose work includes co-founding Daughters of Eve, a non-profit organisation that works to protect girls and young women who are at risk from female genital mutilation (FGM).
We heard her speak at Fourth Wave: London Feminist Activists's Femfest in September, and we think the work she does is simply outstanding.
16 – Jane Garvey
Jane is the fantastic presenter of Woman's Hour on BBC Radio 4. Tune in on weekdays 4pm and Saturdays at 10am to hear the consistently interesting and varied topics from female perspectives.
17 – Adele
Adele – the wonderfully loud and loveable superstar who when asked whether her boyfriend minds her lax shaving habits replied: "He has no choice. I'll have no man telling me to shave my fuckin' legs. Shave yours."
Adele, you are perfect!
https://www.google.co.uk/…/adele-shave-legs-vanity-fa…/amp/…
18 – Claire Moore
Claire is co-founder of Certain Curtain Theatre Company which creates original dramas with themes including domestic violence and teenage pregnancy.
She also runs the Twitter account DV Murders www.twitter.com/onein4, which provides a news feed on domestic violence murders which are often skimmed over in the media.
19 & 20 – Deborah Francis-White and Sofie Hagen
Comedians Deborah Francis-White and Sofie Hagen present The Guilty Feminist podcast, which discusses the fears and hypocrisies of 21st century feminists in a hilarious and refreshing way. Have a listen here: http://guiltyfeminist.com/episodes/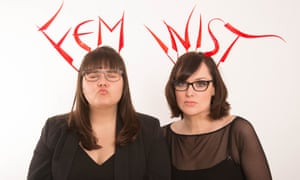 21 – Caroline Lucas
Caroline is co-leader of the Green Party of England and Wales, Brighton's first female MP and vice-president of the RSPCA.
Caroline fights tirelessly against sexism and famously wore a ''No more Page 3'' T-shirt during a commons debate on sexism in the media.
22 – Lucy-Anne Holmes
Lucy-Anne Holmes is the founder of the FANTASTIC and SUCCESSFUL 'No More Page 3' campaign.
"In 2012, Lucy-Anne Holmes wrote a letter to the then-editor of The Sun, politely requesting that the newspaper reconsider Page 3, detailing some of the reasons why sexually objectifying women in a newspaper was simply not sensible. Receiving no answer, she started a petition, two years later, the feature was withdrawn."
Read more about the campaign here: http://www.independent.co.uk/…/no-more-page-3-our-grassroot…
23 – Caitlin Moran:
An award winning author, journalist and feminist, Caitlin penned How To Be A Woman, writes regularly for The Independent and The Guardian and is a supporter of the Women's Equality Party.
24 – Michelle Obama:
Michelle famously said men should "be better" if they want to help achieve gender equality.
"Be better at everything. Be better fathers. Just being good fathers who love your daughters and are providing a solid example of what it means to be a good man in the world. Be engaged. Don't just think going out to work and coming home makes you a man."