It was with a heavy heart that we woke to learn the results of the election. As a non-partisan charity, Little Paper Slipper does not usually like to indicate or suggest a political preference and prefers to remain impartial.
However, as an organisation which strives to fight for women's rights and gender equality, we are devastated. It speaks volumes about the world we live in where a man who has openly bragged about assaulting women with unsolicited advances can even be considered to hold the most powerful job title in the world, let alone win the thing.  That he wrote off the recordings as 'locker room talk', and – more disturbingly – that the world shrugged it off with him. The same man who expressed that women who have abortions should face legal punishment, but not the man of course, because as we know women are self-impregnating harlots who look up with lustful sin filled holes for eyes to their shining male overlords.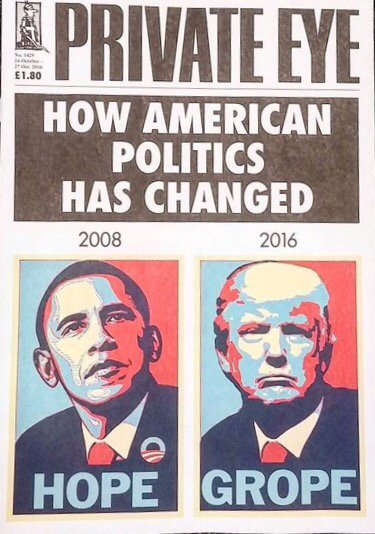 It's futile to pretend that sexism did not exist in this election. We are all too aware that if Hillary Clinton had five children from three separate husbands she would have her morality and principles denounced and scrutinised on a daily basis. It's no coincidence that Trump only made the comment 'look at that face. Would anyone vote for that?' about his only female rival for the Republican presidential nomination, Carly Fiorina, when – come on – the male candidates were hardly a line-up from a model catalogue.
The United States has chosen to elect a man who The Telegraph have been able to compile a 4000+ word 'Donald Trump sexism tracker: Every offensive comment in one place' for. That's the situation we are in here. Oh, and not forgetting that his running mate, Vice President-to-be Indiana Governor Mike Pence believes that gay people can be 'cured' through conversion therapy, defunded Planned Parenthood in his state, opposed marriage equality, voted against the Lilly Ledbetter Fair Pay Act which protects women and minorities from wage discrimination, and opposed Obama's transgender bathroom directive which allows public school students to use the bathroom of the gender they identify with.
That these comments and discriminatory actions can be condoned by anyone, let alone those in power, is a distressing reminder of how far we are to come in gender rights. We would like to offer our support and love to anyone feeling scared and upset by this turn of events, and encourage an open dialogue where equal rights can be discussed in an objective, balanced and productive platform which is free of prejudice and lies for political gain.
On a more positive note, we would also like to celebrate the victories of the strong candidates who champion gender equality, both male and female. It is particularly positive to see Democrats Catherine Cortez Masto win Nevada, making her the first Latina senator in U.S. history, and double amputee veteran Tammy Duckworth (who currently serves as a U.S. Representative), unseat incumbent Republican Mark Kirk triumph in winning the Illinois Senate seat.
And on a final, totally non-partisan and indifferent note, we will say this: Michelle Obama 2020.
By Lizzie Scourfield